Are you a minority female looking for small business loans? Then hop aboard the small business loans for minority women express. Each stop along the route has something to offer. Pull into the station, stay awhile, and learn about what each option has to offer.
Small Business Loans for Minority Women Come in All Shapes and Sizes, Find the One that Will Work Best for You
Once inside the station, you may find that small business loans for minority women aren't what you expect. In addition, you will find there are grants and other resources available to help female minority business owners. There are many other options for funding as well, including loans that are available to everyone. The only way to determine which option or combination of options will work best for you is to learn all you can about each one.
Find out why so many companies use our proven methods to get business loans.
First Stop: The Small Business Administration
The first stop on the small business loans for minority women express is the Small Business Administration. SBA loans are guaranteed by the government and issued by participating lenders, mostly banks. They can guarantee up to 85% of loans of $150,000 or less, and loans that are more than $150,000 they will guarantee up to 75%. The maximum loan amount they offer is $5 million.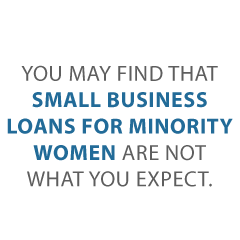 Due to the government guarantee, banks are able to offer these loans at lower interest rates and with less strict eligibility requirements. Since many minorities face challenges getting funding due to lower credit scores and net worth, these loans tend to work for them. This is despite the fact that they are open to everyone and not specifically small business loans for minority women. Here's a sample of what they offer.
7(a) Loans
This is the Small Business Administration's cornerstone loan program. It offers federally funded term loans up to $5 million. The funds can be used for expansion, purchasing equipment, working capital and more. These funds are distributed through traditional lenders.
The minimum credit score to qualify is 680. In addition, there is a down payment requirement of at least 10% for the purchase of a business, commercial real estate, or equipment. The minimum time in business is 2 years. In the case of startups, business experience equivalent to two years will suffice.
504 Loans
These loans are also available up to $5 million and can buy machinery, facilities, or land. They are generally used for expansion. Like 7 (a) loans, private sector lenders or nonprofits process and disburse these funds. They work well for commercial real estate purchases especially.
Terms for 504 Loans range from 10 to 20 years. Unfortunately, funding can take up to 90 days. They require a minimum credit score of 680, and they use the asset being financed as collateral. There is also a down payment requirement of 10%. This can increase to 15% for a new business.
In addition, there is a 2-years in business requirement. For a startup, equivalent experience for management will meet this.
Microloans
Microloans are available in amounts up to $50,000. They work for starting a business, purchasing equipment, buying inventory, or for working capital. Community based nonprofits handle SBA microloan programs as intermediaries.
Interest rates on these loans are 7.75% to 8% above the lender's cost to fund. Terms go up to 6 years. Similar to other programs, they can take up to 90 days to fund. The minimum credit score is 640, and the collateral and down payment requirements vary by lender.
SBA Express Loans
These loans max out at $350,000. They have a maximum interest rate of 11.50%. In addition, terms range from 5 to 25 years, and the SBA guarantee is less than it is with their other loan programs at 50%. To qualify, your credit score must be above 680. Another requirement is that you must have a debt to service ratio of 1.1 or higher. If the loan is greater than $25,000, collateral may be necessary. It depends on the lender.
The turnaround for express loans is much faster. The SBA takes up to 36 hours to give a decision. Also, there is not as much application paperwork. As a result, express loans are a great option for working capital, among other things, if you qualify.
Find out why so many companies use our proven methods to get business loans.
Other SBA Resources
While you are at this stop on the route, take a minute to check out the other resources the SBA offers. They exist for all small business owners. However, their Office of Women's Business Ownershipexists to help female local business owners specifically. This includes females that are considered minorities. Their goal is to enable and empower business owners that are women via advocacy, outreach, and education as well as assistance.
Second Stop: Private Lenders
The next stop when looking for small business loans for minority women is the private lending station. Loans from private lenders, much like SBA loans, are not exclusively for minorities or women. However, They do tend to work well with the unique challenges each group faces.
Lending Club
LendingClub functions as a peer-to-peer lender that offers mostly fixed-term small business loans. Borrowers that get loans from LendingClub generally use loans funds to buy equipment, finance growth or expansion projects, consolidate other debt, or hire new employees.
The minimum loan amount at LendingClub is $5,000 and the maximum is $300,000. You must have been in business for 12 months or more and have at least $50,000 in annual sales to qualify. There can be no tax liens or bankruptcies, and you must have at least 20% ownership. They will work with a credit score that is fair or higher. A fair credit score ranges from 620 to 659.
Lendio
Lendio offers a loan-connection service that dramatically cuts the time it takes for small business owners to find the perfect loan. They do the legwork by vetting a network of competing small business lenders. Funding is fast, sometimes in as little as 24 hours.
Potential borrowers submit one application and then see offers from lenders in the network. The minimum loan amount is $500 while the maximum is $5,000,000. The business must be U.S. or Canada based and must have a business bank account. The minimum personal credit score for approval is 560.
Blue Vine
BlueVine offers two options for small business financing. They include lines of credit and invoice factoring. They also offer the ability to talk with a financing advisor. Their application process takes place exclusively online. The minimum loan amount is $5,000 and the maximum is $100,000. To be eligible you must be in business for at least 6 months, have revenue of $120,000 per year or more, and have a credit score of at least 600.
Kiva
Kiva has a different lending model. They offer loans to businesses, but their platform is far different from that of traditional or even other non-traditional lenders. It is a kind of cross between crowdfunding and lending. They offer loans with a 0% interest rate, so even though you have to pay it back, it is actually free money. In addition, they do not run a credit check at all. The only requirement is that you have to get at least 5 family members or friends to donate money for your business, and you yourself have to give at least a $25 loan to another business on the platform.
Grameen
Microloans are a great option when it comes to business loans for women with bad credit. Grameen is one of the few lenders that offers microloans specifically for women. The loan amounts range from $2,000 to $15,000, and they also offer financial training and support.
As a bonus, they report payments to Equifax and Experian. Consequently, these loans help borrowers build credit.
Bonus Stop: The Grant Spur
Though highly competitive and rarely enough to fund a business on their own, grants are a great way to supplement other business funding. It can be wise to keep your eyes open for loan opportunities even while seeking small business loans for minority women. Here are a few you can start with.
Amber Grant
The Amber Grant awards $500 to $1,000 per month to a woman-owned business. One of the recipients also receives an additional $10,000 grant at the end of the year. Applicants only need to tell their story and turn it in with a $15 application fee.
#GIRLBOSS Foundation Grant
Specifically for woman-owned businesses in fashion, music, and art, the #GIRLBOSS small business grant awards $15,000. They also offer exposure via the Girlboss website and social media platforms. Judges rate those applying on creativity, business savvy, planning, innovation in the field, need, and where they plan to work.
Cartier Women's Initiative Award
The Cartier Women's Initiative Awardis $100,000 for first place and $30,000 for second place. They award the grant to 18 female business owners from around the world each year. Women business owners who are just getting started may qualify. Look over the complete application for more information.
First Nations Development Institute Grants
The mission of this group is to offer grants that help Alaska Natives, Native Hawaiians, and Native Americans. They offer assistance in the application process in addition to funds.
National Black MBA Association Scale-Up Pitch Challenge
Also known as NBMBAA, the Scale-Up Pitch Challenge has cash prizes ranging from $1,000 to $50,000. The association says its purpose is to help newer businesses that have an African founder that maintains equal ownership.
There are also grant options that can work well even though they are not exclusively for minorities, or women. Some examples include the following.
FedEx Small Business Grant
There are 10 grants the company awards each year. They range from $15,000 to $50,000. If you're a minority owned business with a cutting-edge product, this could be the grant for you.
A business must use the FedEx website to submit entries. There are a few questions to answer about your business. In addition, there is a requirement for an elevator pitch about what makes your business special. Also, you have to explain how you would use the grant funds. A 90 second video submission is optional.
Find out why so many companies use our proven methods to get business loans.
NASE Growth Grants
The National Association for the Self-Employed (NASE) has small business Growth Grants of up to $4,000. They are for micro-businesses, and proceeds can be used for a number of things. They can be used for marketing, advertising, expansion, and even to hire employees. These grants are open to everyone. However, you do have to be an NASE member to apply. Membership fees vary based on the membership level chosen.
Don't Stop There: Other Resources for Women
Here are some other organizations that work to help women of all races. The support they offer can help you land small business loans for minority women, or any loan for that matter, and run your business well.
National Female's Service Council
The NWBC is a federal advising council. It works as a resource of guidance to the government on women's organization problems. The objective is to encourage campaigns, programs, and policies to sustain females from startup to growth.
Other Station Resources
Along with those resources listed above, explore these firms that also provide support to women owned businesses.
The AWBC runs a network of business centers geared toward women. These centers labor to help women succeed by offering training, business development, financing, and mentoring opportunities.
This organization, also known as NAFE, sponsors events, provides training, and offers other resources to help female business owners achieve success.
The NAWBO works across the country to offer training, events, and other resources to women owned businesses nationwide.
With more than 300 chapters and 10,000 volunteers, this is the country's largest network of expert business mentors that volunteer their time. They match female business owners with mentors, or they can participate in a workshop to help them learn what they need to know to be successful.
You Are the Conductor: Take Your Business to the Next Level
In the end, the key to getting small business loans for minority women is to take the controls and go full steam ahead. You conduct your ride on the rails of business ownership. You can start by opening the doors to all the funding options that could be available to you. To do this, you have to build fundability. When your business is fundable, you have access to funding from virtually every source possible.